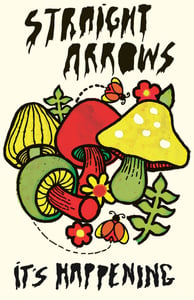 $

6.00
Hearing the STRAIGHT ARROWS' OWEN PENGLIS going bat shit crazy on the song 'Something Happens' there's no doubt that there's something definitely happening on their debut album It's Happening. That 'happening' is blown out psych garage from one of Australia's finest exponents of bratty, snotty rock. And lord knows there's heaps of that good stuff blasting from Down Under at the moment! The Sydney four piece—vocalist/guitarist Penglis, bassist ANGIE BERMUDA (CIRCLE PIT), guitarist/vocalist ALEX GRIGG and drummer ADAM WILLIAMS, know how to party. They started out doing shows in a gay bar, have been known to play while on roller skates and write songs that are in their own words a "puerile psychedelic joke about phalluses." Having toured and played with the likes of Thee Oh Sees, Eddy Current Suppression Ring, The Black Lips, the UV Race and Jay Reatard the band knows that while the party starts with an awesome live show, to keep the party going you need songs. Fucking master blasters! Straight Arrows deliver on both counts. Eleven scratchy psyched out punk tracks in 24 minutes. Fuzzed, melodic and reverberated budget rock with a psychedelic bent.
Released in Australia on CD by Rice Is Nice Records
Also released in Australia on Vinyl by Juvenile Records
Now Available on Cassette via Pleasant Screams!
A-SIDE:
1 - Bad Temper
2 - It Begins
3 - Magic Sceptre
4 - Mind Control
5 - Gone
6 - Something Happens
B-SIDE:
07 - It Happens Again
08 - From The Start (Get It)
09 - Haunted Out
10 - Golden Torch
11 - Running Wild
250 Pressed & Hand-Numbered!